SpaceX was
ready for a milestone
, its first launch from Florida and its first commercial launch to geosynchronous orbit (GEO) on its once-flown Falcon 9 v.1.1. (NOTE to Elon Musk: you can do better for a designation than that. Advanced Falcon, perhaps)? Anyway, two launch dates have come and gone. Now I'm not blaming the SpaceX folks for caution. This is a "must have" success for a rocket with no GEO deliveries so far and a long fight ahead for US government certification for Defense payloads. Everything has to be right. We don't have a new launch date yet - "a few days" is the best available.
Do I think they'll get it right? Yes, I do. They've made huge strides as the first competitor to United Launch Alliance to actually make it to orbit with a medium-lift vehicle. (The Falcon Heavy may flay late next year). Here's a toast to success!
UPDATE: After postponement, a
brilliant success
!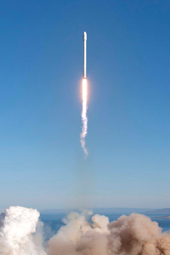 SpaceX publicity photo of Falcon 9 launch